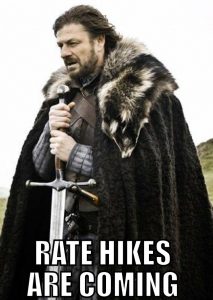 Winter is already here and you've certainly heard by now that the Federal Reserve has opted to raise short term interest rates by a quarter of a percent. It's only the second time that interest rates have gone up in a over a decade! And although a quarter of a percentage point may seem tiny there are some important things that homebuyers, sellers and investors should definitely keep in mind following the news.
First of all, THIS IS A GOOD THING! It means confidence in the economy is increasing and there is strong reason to believe that it will continue to.
Home loans do not move in lockstep with Federal Reserve decisions but chief economist of financial services company IHS Markit Nariman Behravesh has advice for potential homeowners with the ability to lock in mortgage interest rates: "Now would be a good time to do it."*
Variable rates on credit cards may be impacted so you may want to nix credit card debt before your rate is increased.
Car loans and student loans CAN be impacted.
This is just the beginning of the interest rate increases that are coming. It is projected that 3 more rate hikes are on the way in 2017!
It's not clear yet how much these hikes are going to affect the housing market but it's always good to be aware of what is going on. For more information consult with qualified financial professionals and loan providers about how current and upcoming rate hikes will have an impact on your home search or ability to sell.
*Marketplace. American Public Media. Los Angeles, California, 14 Dec. 2016. Marketplace for Wednesday, December 14, 2016.